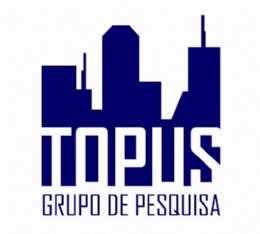 TOPUS RESEARCH GROUP activities were begun on November, 2012. The creation of the group was/is intended as a way to overcome an important lacunna concerning research in the field of literary space, both by faculty and students.
At Topus there is room for debating and for the enhancement of the structural category of space in literary and non-literary works. Inside the group, researchers deepen reflections pertaining to field research or other, within the research lines proposed by TOPUS. For undergraduate and post-graduate students, TOPUS is taken to be a starting point for the initiation of scientific projects, studies and in-depth assignments regarding the understanding of the literary production in itself and in its multiple relations with society. Within this framework, students write projects that will be undertaken at the undergraduate and / or postgraduate level.
The group is also a registered member of CNPq.
TOPUS journal emerges as an idea put into practice in 2015.
During the plenary session of the 3rd JOEEL - International Conference on Studies about Literary Space, the idea was put forth that the Group should create a journal. This proposal was promptly accepted and, in that same month, December / 2015, the journal had been created and published online.
The main objective of the TOPUS Journal is to publish original scientific articles that dwell upon the relation of space with literature and other arts.
TOPUS Journal has its headquarters at the Federal University of the Triângulo Mineiro - UFTM.